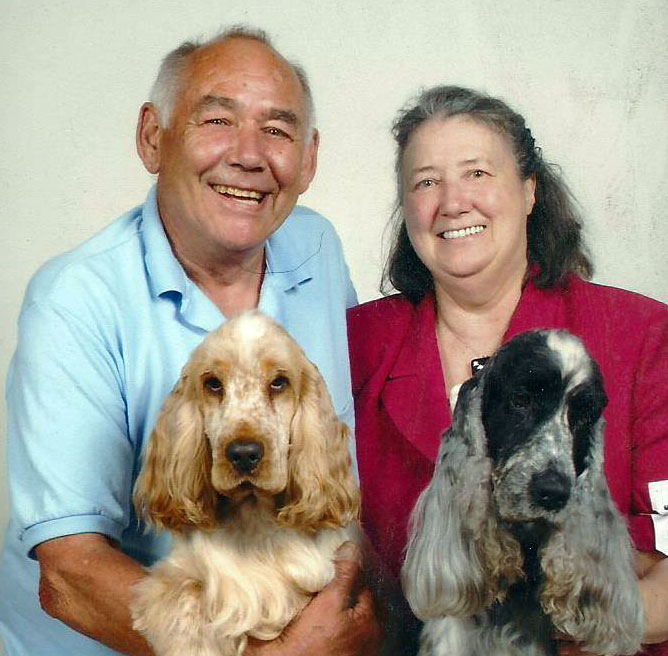 2017 Santa Barbara Kennel Club Sporting Group Honoree All time top winning Breeder, Owner, Handler for Specialty Best of Breeds with 28 Specialties won.
Lynda and Robert Gall 
We love California with it's afternoon ocean breezes and moderate weather.  Our family has always loved animals, owning a multitude of "CRITTERS" over the years. 
Our son Robert and our daughter Shelly were raised to know what a responsibility animal ownership is.  It is not something to be taken lightly. Before you consider the purchase of any animal make sure you have the time, monies and love to give them.  It is a huge responsibility.
In 1976, we decided to purchase an English Setter puppy. Little did we know what a journey that would follow. This wild young puppy turned out to be Ch. Cinema's Gone with the Wind, "SCARLETT". She was a wonderful companion who taught us many things. Among them were the exciting highs of our first show win to the tremendous responsibility of having a litter. "Scarlett" was also a top-producing bitch in the English Setter Association of America.
Our next endeavor was purchasing an English Cocker puppy from the Wyncastle kennel, who later became Ch. Wyncastle's Cinderella, "Cinders". Through these two girls and the generations of dogs down from them, we have had a life time of fun, learning and sharing good times and bad with the many friends that we have made all over the world because of our canine companions.
Bob and I are now both retired and are enjoying spending even more time with our children, grandchildren, and our 4 footed kids.  
We would to say thank you to our son Robert who has stayed at home to watch the dogs over the years and has even whelped two litters for us while we attended the English Cocker National Specialties.
Our daughter Shelly is busy with her own two children. We hope they will also become the skilled handler that their mother was and enter the junior showmanship ring soon. 
Bob and I have been members of the English Cocker Spaniel Club of America for 25 years and the English Cocker Spaniel Club of Southern California for 30 yrs. 
Our goal is to continue to breed healthy, and sound English Cocker Spaniels.